Heroes & Friends

Brainiac 5

We are delighted to announce that the much-loved Brainiac 5 have reformed and recently played their first gigs since 1980.
Retaining the core trio of Charles Taylor (guitar/vocals), Woody (bass) and Steve Hudson (drums/backing vocals), they are joined by new boy, Duncan Kerr on lead guitar, thus maintaining their connection with the fabulous, near mythical and sadly long lost Plummet Airlines. Duncan replaces former B5 axe maestro, Richard Wildman Booth, with whom he played in the Plummets. Wildman is currently living in central Wales where he is leading various local bands but he is threatening to join the Brainiacs at one of their forthcoming gigs in the West Country.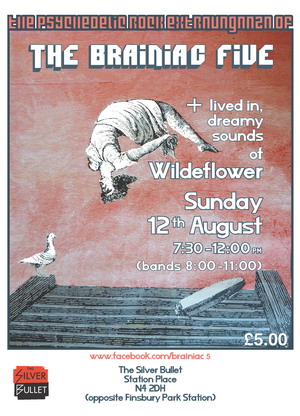 The Brainiacs were a Cornwall-based psychedelic punk band, who came to prominence in 1978 with the wonderful 'Mushy Doubt' EP, a favourite of the late DJ John Peel. The EP featured great songs like 'Vegetable' which packed a Pistols type punch with more esoteric leanings. The set's centre piece was 'Endless River', a West Coast-sounding number that drew very favourable comparisons with vintage Country Joe & the Fish. The band played many action-packed live shows both in London (such as the now legendary Comstock Lode/Bucketfull of Brains benefit gig at the Africa Centre in May 80 with the Soft Boys and Barracudas with Alex Chilton in the audience!) and down on the peninsular (including the infamous 4th July Independence Day concert at the Town Hall in Launceston with Ian Dunlop and Terry Clements), and released another 7", 'Working' before splitting in 1980. A further single 'Time'

*

and an album 'World Inside' were posthumously released and are now collectors' items.