RED PROPELLERS
SATURDAY 11TH NOVEMBER 2017
BETSEY TROTWOOD 15.00-18.00 (matinee)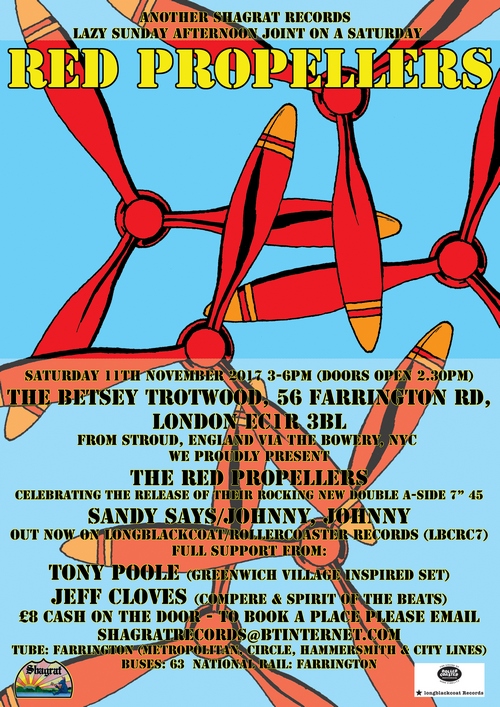 We're excited to announce that fast-rising Stroud 4-piece The RED PROPELLERS will be playing a special show, making their London debut, for us
For all you fans of true rock and roll you're in for a treat - the RPs harness the energy and street poetry of the ground-breaking mid 70s New York scene - imagine Television, Richard Hell, early Talking Heads, Heartbreakers, Modern Lovers with a big dollop of Uncle Lou and the Velvets and you get near to how these guys sound. Singer James Dick looks to the vocal stylings of Patti Smith, Alan Vega and Jim Morrison and together this foursome make one groovy noise - some have remarked too on similarities with Mark E Smith and Nick Cave.

The Propellers have released a boss 10" and 2 x CDs to date on their own longblackcoat imprint, part of the mighty Rollercoaster Records - they'll be celebrating this London show with the release of a cool double A-sided 7" of two of their nattiest tunes, 'Sandi Says' & 'Johnny, Johnny' - you can buy copies on the day.

They'll be joined by poet/musician Jeff Cloves who switched me on to the RPs in the first place and our very own Tony Poole for an afternoon that we hope will mix 50s beat poetry, 60s Greenwich Village folk tunes and 70s rock with a Max's/CBGBs vibe.

Tony and Jeff recently teamed up as 'Riff-Raff and A Rickenbacker' for the annual Launceston Poetry Festival and by all accounts it was a terrific night - Jeff (who is a regular columnist of 'Peace News', and mainstay of bands like the Poetsdoos, Movie and Stardust will be reading some of his fab poems and joining Tony for a folk song or two.

Thanks as ever to the mighty John Hurford for his Warhol-inspired flyer!

It's £8 cash on the door on the day but you'll need to book a place in advance
- email shagratrecordsuk@btinternet.com with RED PROPELLERS in the subject field.

It promises to be a cracking afternoon and we hope to see you there.


---
BRUCE BARTHOL with Very Special Guest EDGAR BROUGHTON
Saturday June 24th 2017 - All are welcome !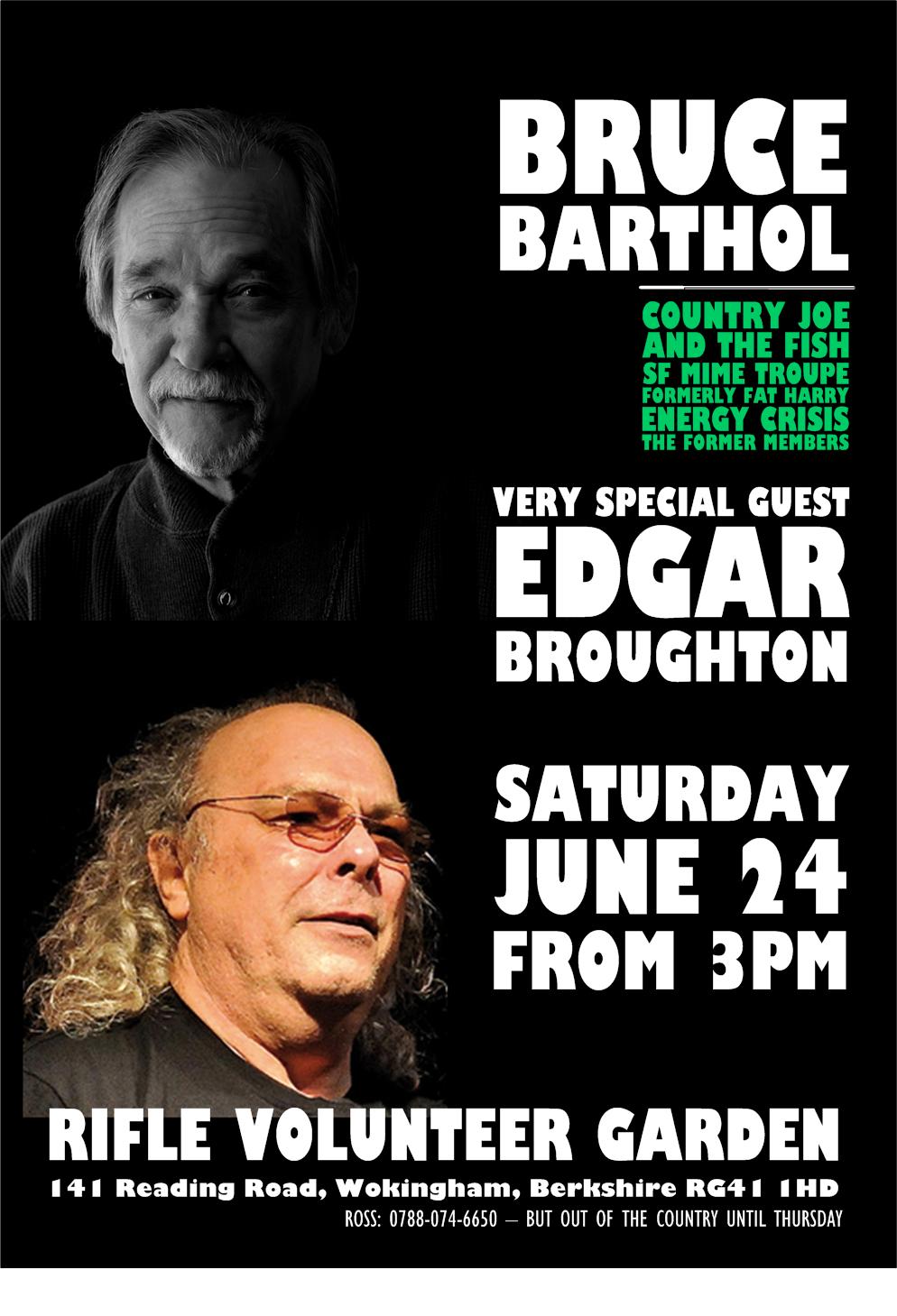 ---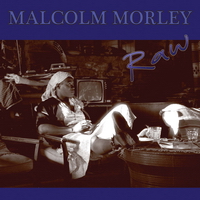 MALCOLM MORLEY SHOW

We're deeply sorry to say this gig has been postponed in deference to the sad news of Deke Leonard's death.

A new date will be announced in due course









---
BRIDGET ST. JOHN : Shagrat Records Lazy Sunday afternoon joint - on a Saturday !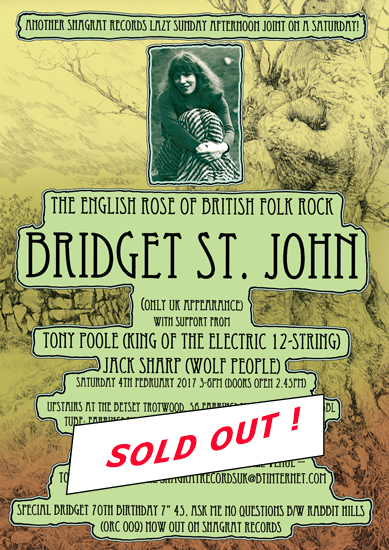 Saturday Feb 4th 2017 3-6pm
(doors open 2.45pm)

Upstairs at The Betsey Trotwood
56 Faringdon Rd, London EC1R 3BL

We finally have re-scheduled the Bridget St. John show that was snowed off back in 2012 - this is Bridget's only UK gig whilst she is over here in January & February.

SOLD OUT - SORRY !
.

We're delighted that Bridget will be joined by Tony Poole and
Jack Sharp,
both of whom are doing solo sets. Bridget will be on between 3.45 and 4.45 pm approx.

PLEASE NOTE that there will be a kitchen at the Betsey selling hot food between 12.00 and 14.30pm on the 4th.

(Click the poster to see full size)
---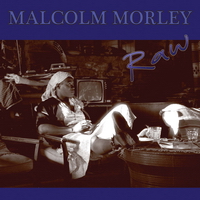 Malcolm Morley LIVE ! Saturday 29th October 2016

The Betsey Trotwood /Upstairs
56 Farringdon Road
London EC 1R 3BL
Doors open 8pm admission £5 on the door
Performance starts 8.30....8.45 ish
Nearest Tube: Angel Islington (Northern Line)
Buses: 19, 38
Artists appearing............
Martin Taylor of the Green Ray Band with Guitar and Songs
Malcolm Morley and Jari from Jariland with Guitar and Accordion, Songs and Tall Tales.
---
Sunday 1st November 2015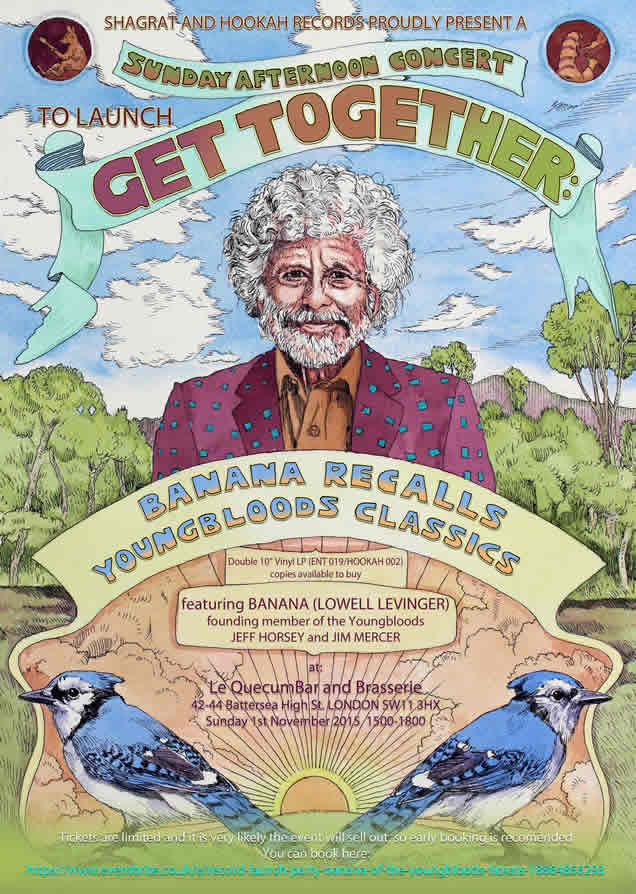 BANANA LP LAUNCH - SUNDAY 1st NOVEMBER
Please join Shagrat and Hookah Records for the launch of the double 10" vinyl release by Banana, '
Get Together
' as he recalls all of the Youngbloods' classics including
Sugar Babe, Darkness Darkness, Euphoria, Hippie From Olema
and, of course the anthem,
Get Together
. As a special treat the album also contains Banana's raw version of
Fred Neil
's
Another Side of This Life
.
Guests on the album include
Jesse Colin Young, David Grisman, Peter Stampfel, Ry Cooder, Michael Hurley
(who also provided illustrations for the 12 page booklet that accompanies the release),
Dan Hicks, Maria Muldaur
and
David Nelson
.
Our hosts for the afternoon are
Le QuecumBar
in Battersea who will staff the bar but no food will be available. We recommend a visit at other times to take a dip in to their menu and to listen to Django Reinhardt inspired Gypsy Jazz.
http://quecumbar.co.uk/
Support acts will be provided and the record will be available to purchase.
The Schedule is being finalised but Banana will be performing selections from the album from about 4:30 onwards.
Tickets are limited and it is very likely the event will sell out, so booking early is recommended.
You can book here:
Lazy Sunday Afternoon Joint on a Saturday !
Saturday July 25th 2015 2-6pm at The Betsy Trotwood, London
POWDER plays THOMAS AND RICHARD FROST
TONY POOLE from
STARRY EYED AND LAUGHING
BRENDAN QUINN from the MYSTIC RIVER and ABONAI
**IMPORTANT ! PLEASE NOTE !**
You need to email
shagratrecordsuk@btinternet.com
to get on the guest list and pay on door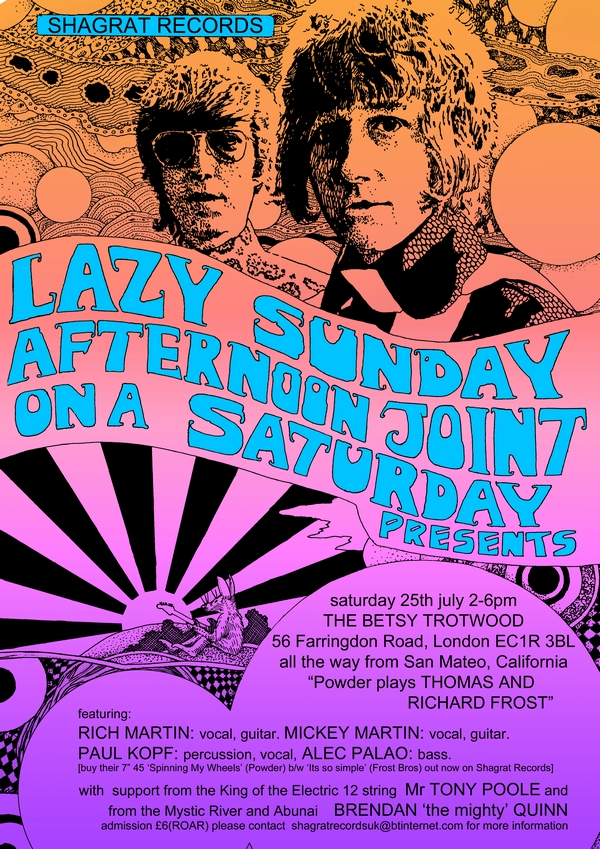 Poster by the Amazing
John Hurford
!
Sunday May 31st 2015 - Bridget St John + Michael Chapman - The Green Note, London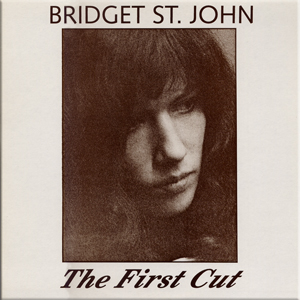 Saturday 27th June 2015 - The BRAINIAC 5 CD Launch Party
The Betsey Trotwood, London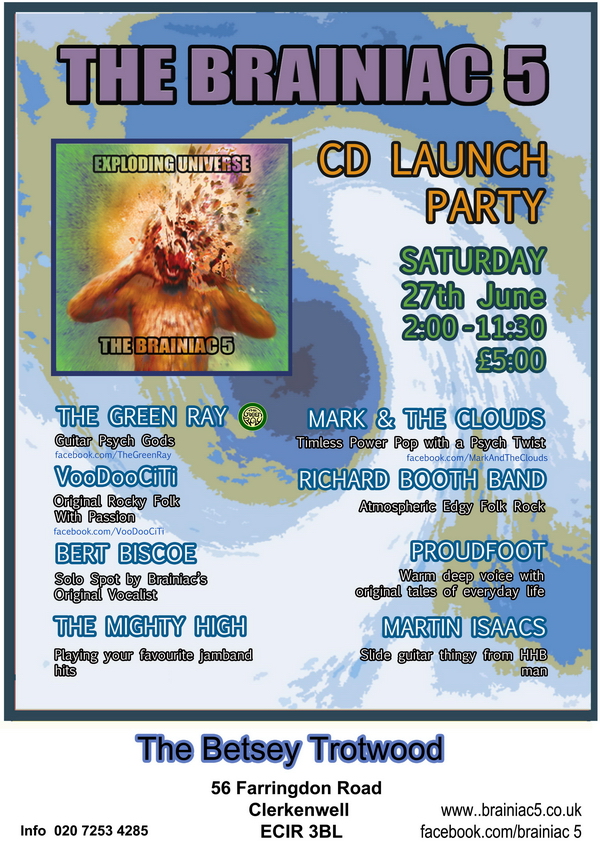 ***********************************************************************************
Fresh from his triumphant solo show at the Betsy Trotwood on 2nd May,

Malcolm Morley
has announced a further live appearance.
He'll be supporting fellow Walthamstow boy, the
Bevis Frond
on
Sunday 2nd August
at the
Lexington
in
London
as part of the
Terrascope
online celebrations.
For tickets please go to:
http://www.wegottickets.com/event/319258
***********************************************************************************
Friday 26th September 2014 - Kimberley Rew - The Constitution, London