BRIDGET ST. JOHN 70TH BIRTHDAY 7" 45
ASK ME NO QUESTIONS b/w RABBIT HILLS (ORC 009)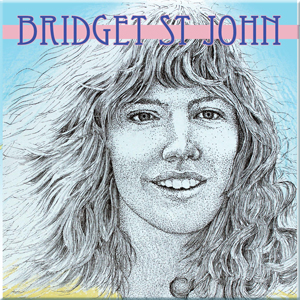 The English Rose of British Folk Rock turned 70 on 4th October and to celebrate this momentous occasion we are releasing a special 7" single.

'Ask Me No Questions' as many of you are aware was the title track of her debut album for John Peel's Dandelion label in 1969. She has performed and released versions of it throughout her illustrious career, and it continues to be a highlight of her live sets.

The version we are releasing is rather special. In the wake of her fourth LP, Jumblequeen, Bridget was approached by Mike Oldfield to contribute vocals to his third solo outing, Ommadawn. On 3rd September 1975, she travelled out to his home studio near Hergest Ridge on the Welsh Borders, and, after recording her contribution to his new album, she and Mike worked on a special version of her signature tune with Oldfield contributing all sorts of shadings and atmospheres behind her guitar and voice.'I remember a glorious sunrise driving home after the visit', recalls Bridget.

The results were rather unusual but sadly the version lay unheard and unused all these years until Bridget recently unearthed a cassette of it in her Greenwich Village apartment. We apologize for the slight loss in sound quality as it is taken from that old cassette but our audio guru, Tony Poole has done a more than decent job in restoring it for this release.

The second song on this 45 is a stunning version of Michael Chapman's 'Rabbit Hills' (originally recorded by him for his 1970 classic Fully Qualified Survivor LP). Bridget and Mike have been friends since they both were booked out by Peter Jenner & Andrew King's Blackhill Agency in the late 60s and their friend ship endures to this day with Mike acting as support and chauffeur on all of Bridget's recent UK tours. Anyone who has seen the pair perform the encores on these tours will know what a special combination they are on stage together. This version just sparkles and for a song so closely associated with Chapman, all credit to Bridget for making it her own. Incidentally this was originally released back in 2012 as part of the 70th birthday tribute set, Oh Michael, Look What You've Done: Friends Play Michael Chapman.

A run of just 500 copies on nice heavy 70g vinyl, the single comes dressed in some beautiful artwork by the inimitable John Hurford, check out in particular his lovely photography on the labels.

Look out for a special show by Bridget here in London in February 2017

Released 7th November 2016



Please email us first if you want to buy multiple copies of the single or copies of other releases in same order and we'll calculate best postal rates for you.
Price: £6.00
+ Shipping: UK:£4.50, Europe:£8.25; USA\Rest of world:£16
PayPal
or
Credit\Debit Card
Select your location from the drop-down list
and Click the Buy Now Button