Heroes & Friends

RUN SHAKER LIFE · RIP MICK CARLESS · 21 June 1946 - 12 January 2021 By Nigel Cross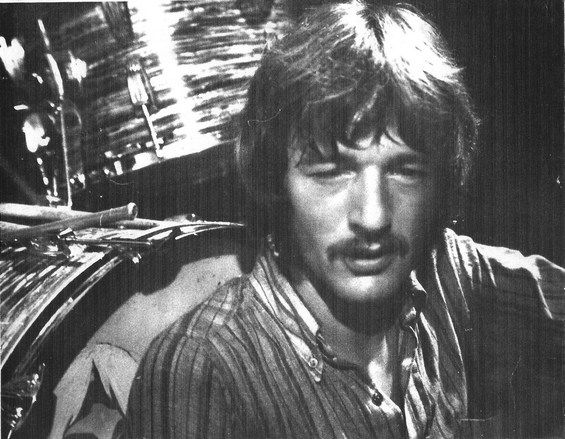 The dark days of January always bring bad news with them and on the heels of the sad passing of Trees vocalist, Celia Humphreys, came a call from Luke Carless that his father Mick, the talented drummer best remembered for his band Hard Meat, had also left us.

Mick was in the short time I made his acquaintance, a lovely man, open to my many email questions about his life as a musician in the 60s and 70s and so welcoming when Colin Hill and I made our journey into deepest Somerset in October 2018 to interview him in person. We spent a wonderful afternoon with Mick and his family in front of the fire as he patiently tried to answer all our questions about events that had happened half a century ago.

Mick was born in Ilfracombe, Devon. He came to prominence in local outfits such as the Chevrons and Clockwork Orange and then as drummer with keyboard maestro, John Morgan. This was his big step up:

'I had long been listening to music that was not the sort of thing that was being played by the bands I had been in up to that point. I was into early British blues bands such as John Mayall's Bluesbreakers and Alexis Korner etc. but also Ravi Shankar, Miles Davis, early Hendrix etc. etc. In other words, I was hankering to find musicians in the area that were going in that direction.

I don't remember who it was that one day told me there was a great blues pianist (John Morgan) who was playing at the Attic Club in Bideford and he didn't have a regular band. They suggested he was always looking for a drummer and that I should go check him out. Long story short I did the gig the first time I met him and he asked if I would like to play regularly with him at the Attic. We would be joined on stage by various wonderful blues musicians I had never met but were friends of his from university days and later. It was all very authentic and I thought my dreams had come true. I should say here that John and I remained great friends for the rest of our lives despite the fact that he said he never forgave me for leaving to form Hard Meat!

John had played a lot while at Manchester University (degree in English and French) and because he spoke French so fluently, he was naturally attracted to that country and spent time there playing in Lyon and other places with the likes of Memphis Slim (grand pianos fitted together opposite one another, swapping solos) and Howlin' Wolf, who told him he was glad John didn't play in his band. When John asked why, HW said, with his usual wolf like growl- "Because if you ever cut out, I'd sure be sore".

Anyway, one evening Mick Dolan turned up as the guitarist for the gig and stayed on because we gelled so well together. The bass player was a guy from Bude in Cornwall who had met Mick when he was in Cock A Hoop. His name was Mick (again) Walker.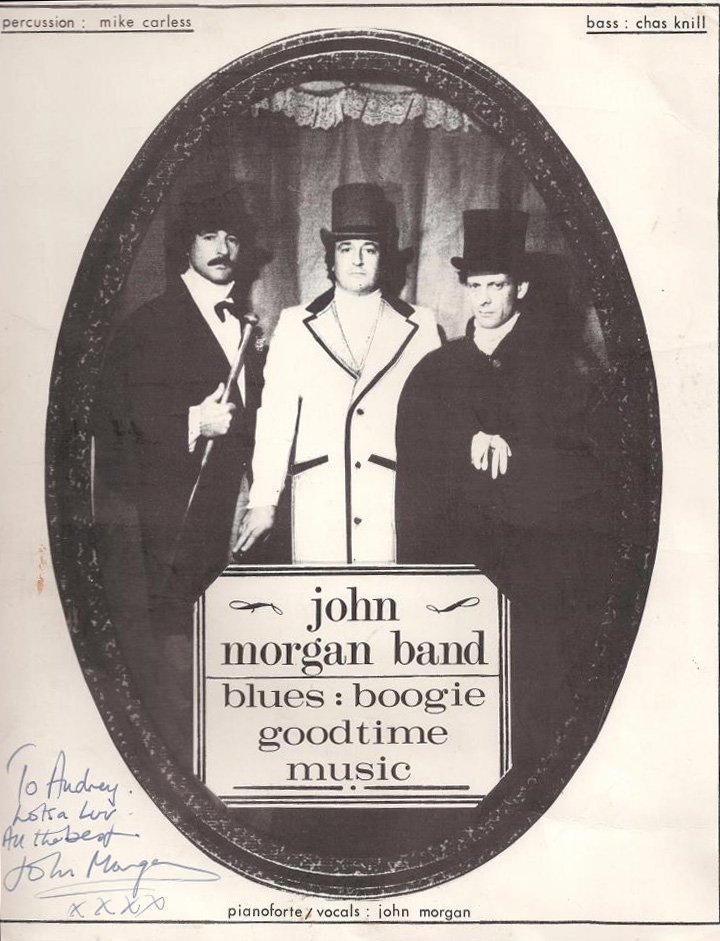 So, because we were playing regularly together, we were getting tighter and tighter and John decided to change the name from the John Morgan Band to The Spirit of John Morgan. Now we started to take bookings all over the country. Lots of university gigs etc. and various clubs like The Marquee Club, Wardour St. By this time the band had really matured from playing constantly together and I loved every minute of it.

During all of this, I had been producing my own art work and had a modest portfolio which my friends at the local Bideford Art College said I should show the principal there. I did that and he was very interested and said they would send a letter to me if I was accepted. I was very surprised but didn't expect much.

The day came when the letter arrived but before I had chance to open it the phone rang. It was Morgan to say we'd got the position of resident blues band at The Marquee on top of the other gigs we were doing around the country! I was blown away but not as much as when I opened the letter from the Art School which offered me a foundation course! Both loves of mine, art and music, what do I do now. It wasn't long though before I knew for sure it would be the band.

Those gigs at the Marquee were amazing for many reasons. It was the heyday of the famous club and the band was cooking. Morgan was a sight to behold in his cloak, raging Hammond organ solos and blues piano. It was the best version of The Spirit of John Morgan and though it continued after Mick D and I left I can see why Morgan was never happy with us leaving'.

As yet nobody has ever told the complete story of Hard Meat, an unfortunately named but hugely musical trio who really should have got more coverage, sold more records and received some well-deserved critical acclaim. There has still been no attempt to anthologise a complete set of the band's recordings from 1969 through 1971. If ever a group cried out for proper curation it is them.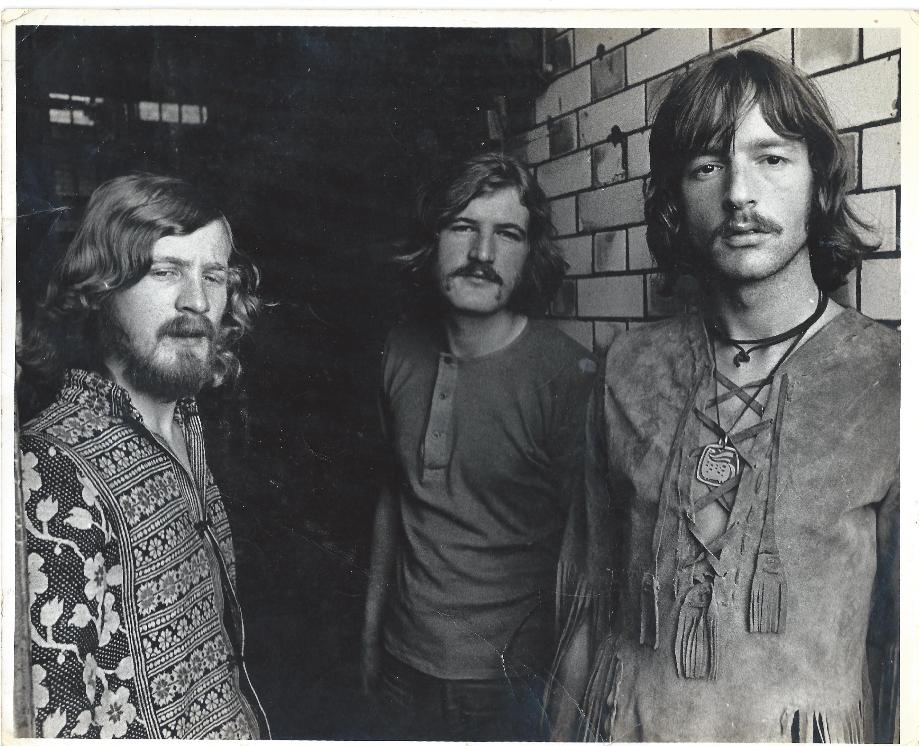 Formed during the first winter days of 1968 with Mick D recruiting his brother Steve on bass, the band lived and rehearsed in various places in Bideford and Barnstaple, including an old 'unpleasant' house on Widdicombe on the Moor.

They released a stunning debut 45 for Island ('Rain'/ 'Burning Up Years'), but sadly Guy Stevens who was assigned to look after the band, didn't like them and with heavy heart, Chris Blackwell had to let them go.

They quickly signed to Warner Bros where they recorded two long players (Hard Meat and Through A Window) and an evocative summery second single, 'The Ballad of Marmalade Emma & Teddy Grimes', which Mick viewed as a blatant attempt to 'go commercial', but which this scribe loves as a reminder of all the good things that happened in that halcyon year. Checkout their rendition of this lovely tune on German TV here: https://www.youtube.com/watch?v=F6uznF_k9YE

The band successfully melded many different elements including blues, jazz and folk and were well aware of the sounds of the times also drawing on West Coast and psychedelic rock influences to create something completely unique. There was nobody else quite like them back in 69. One of the albums that exerted great sway in the early days of the combo was Richie Havens' fabulous 1967 waxing Something Else Again, no wonder they showcased their own take of 'Run Shaker Life' live and as a key moment on their debut LP. Mick's polyrhythmic drumming is stand out here and a crucial factor in all the material they played.

It is easy to see why their highly attuned musical approach won them spots on the lunchtime Radio 1 Club, and four BBC sessions between June 1969 and January 1971 when they called it a day. Sadly, when Luke Carless contacted the Beeb a few years back on his Dad's behalf, all the sessions had tragically been wiped.

One of the trio's more interesting innovations was a semi-acoustic set midway through where the Dolans switched to acoustic guitars, Mick adding intelligent, deft percussion as needed and Steve providing the bass lines via organ pedals (not unlike the way Ray Manzarek did the same in the Doors). In just two years the group recorded prolifically, toured America twice, and gigged harder than just about any other act. They played the Plumpton 9th National Jazz & Blues Festival, the Essen Pop Festival, Munich Pop Festival and toured as support act for the Flying Burrito Bros UK tour in December 1970 during which Mick says, 'Their drummer, Mike Clarke, and l became friends and would go clubbing after the gigs. They were nice guys no outrageous behaviour or anything like that which tends to lodge in the memory like Moonie's antics or Bonzo's!'

This is not the place to recount the history of the Meat but hopefully it will appear later this year in issue 1 of Soft Cloud magazine.

Mick quit Hard Meat a few weeks before the Dolans dissolved the group. Amazing given that they were due to start a third American tour during which Mick was to collect a custom-built Ludwig kit in Chicago. He had started to get disillusioned with the band and was not keen to carry on in the music business.
With both Dolan brothers also now sadly no longer with us, we'll never get to the bottom of why weeks after Mick quit, the group disbanded (please see Big Front Yard for further adventures of the Dolans).

Mick was a man of many talents – he taught himself to play flute – check out 'Time Has No Face' on Through A Window but as he said, 'I couldn't see the point of a flute playing drummer!' His talents did not go unnoticed by other musicians either.
One time, Hard Meat were the support act for Graham Bond, as Mick recalled: 'Wherever the gig was we had finished our set, wondering where Graham was, when they turned up finally. But before they went on one of the roadies came to our dressing room and explained that Graham wanted to see the drummer so I duly went to his dressing room where he explained that the rest of the band hadn't shown but he could do the gig if I played drums as one of the roadies played bass. He was complete with Egyptian Book of the Dead, ankh around his neck and his girlfriend ("Roll us another joint Diane")! I was a little concerned about not knowing his repertoire but he said, " Just start when I start and finish when I finish". The set went fine'.

Although there were overtures for him to replace Bill Bruford in Yes (Mick had got to know their keyboardist Rick Wakeman when the latter was still in the Strawbs as both groups shared the same agency, Arnakarta Music in York Street, off Marylebone Road), Carless had by then returned to the West Country where he successfully ran a clothes shop, bringing down many of the latest London hippie styles to Barnstaple. He also became acquainted with Norman Scott, a regular to the boutique, who of course later became notorious as Liberal MP Jeremy Thorpe's lover. That's a story for another day. Mick also kept his hand in playing and spent a number of summers as part of a combo led by his old boss, John Morgan down in St. Tropez.

It's shame that Mick did not record more or that Hard Meat did not carry on. His drumming on their records is testament to a great talent. He will be missed not only for that but for his good humour and warm friendliness. Our condolences to the Carless family.

MICK CARLESS 21 June 1946 - 12 January 2021 RIP

Photo credits:
Photo of Mick (Spirit of John Morgan) in The Cool Room, Tanton's Hotel, Bideford, 1968. (Photograher unknown)

Copyright Nigel Cross 2021. No parts of this may be used elsewhere without permission of the author.