'THE LEE RIDERS' – THE LEE RIDERS
(HIGH ON THE PYGTRACK/SOFT CLOUD* CD PYG01/SC002)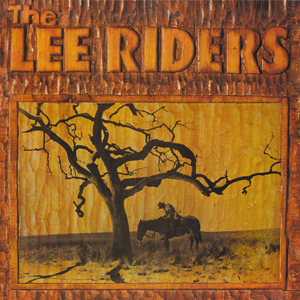 Our good friend Colin Hill has finally launched his long-planned label, High on the Pygtrack Records and we're thrilled to be collaborating on his first release, a reissue of a very obscure album from 1972, originally put out by UA Records but now out of copyright, 'Lee Riders'.

Hands up if you know the connection between American southern country rockers, PURE PRAIRIE LEAGUE and British big sky band COCHISE? You've guessed LEE RIDERS, a band formed in Woodstock, New York State in 1970 by Florida-born singer/songwriter Robert Lee.

When Robert's hopes of getting a contract with Dylan manager Albert Grossman were dashed, he gathered a bunch of like-minded musicians around him also from the south, namely drummer Bill Hinds, bass player Mike Reilly, keyboardist Mike Connor and guitarist Matt Presby and managed to land a deal with IF's manager Lew Futterman. Futterman brokered an agreement with Martin Davies at UA in London for them to come over and record an album here in the UK.

Hinds for various reasons didn't make the trip over the Atlantic but by the late summer of 1971 the others were holed up in a cottage on Alfred Lord Tennyson's estate at Aldworth, drinking the local ale, throwing darts and when the occasion arose rubbing shoulders with UK musicians such as Led Zeppelin, Patto, Marc Bolan and Aynsley Dunbar. And they quickly resolved the problem of the vacant drum stool when they recruited Roy O'Temro late of fellow UA act, Cochise. Roy was soon supplying them with the perfect rhythms for their tasty country funk.

Over that winter the band recorded an album at Morgan Studios under the supervision of Futterman and Jon Child (IF, Ted Nugent) and Roy's fellow ex-band mate the very famous BJ Cole added some sweet pedal steel licks to some of Robert's songs. Released in Spring 72, the debut waxing received little fanfare but was a sympathetically packaged, beautifully played set of Robert's songs that fit right into that down-home style of other signings at the label like the Brinseys, Creedence, Redwing and Gypsy. The quality of the song-writing was stellar and tunes like 'Ruby Valentina', 'Pale Horse' and the mesmerising Western saga 'The Moment' deserved a wider audience.

The group went out to promote the LP but it must have been one of the most mis-matched couplings of the era, support slot to David Bowie then on the verge of superstardom and in his full Ziggy Stardust rig. Relations between the Riders and the Spiders were warm but after a handful of dates, things came to a head in Harlow when Bowie had them kicked off the tour. Shows on the Continent were scrapped and after a gig at Plymouth's fabled Van Dike club on 29th April the group slowly began drifting back home to the USA.

Robert never realised his true potential and later tragically died after an accident whilst Roy too passed away some years ago. The two Mikes however made good and on their return to their home town of Cincinnati re-connected with Bill Hinds in time to kick start Pure Prairie League and their classic sophomore set, certainly one of the greatest of all 70s country rock albums, 'Bustin Out', and re-acquainted themselves with Mick Ronson who did the string arrangements on the record.

Mike Connor sadly passed away in 2004 but Mike Reilly is still out there playing great music and was more than happy to tell his version of the Lee Riders story as he remembered it.

'Lee Riders' is now reissued (run of just 300 copies) for the first time ever in an attractive CD wallet with original artwork and an accompanying 8-page booklet designed by Tony Poole with notes by Nigel Cross and a lengthy oral history of the group by Mr Reilly. With some nice never-before seen photos and alluring disc illustration by our regular art guru John Hurford totally in keeping with the record's cowboy themes, this is not only a must-have reissue for Pure Prairie League and 70s British country rock fans and but also for anyone caught up in the thrall of the great original country and southern rock boom of that time.


---
SHINDIG! REVIEW


LEE RIDERS
Lee Riders

****

Soft Cloud/High on The Pyg Track CD

Influential collector Colin Hill has kicked off his collaboration with Nigel Cross of Shagrat with this little-known funky, hard edged country rock album. Recorded in the UK at Morgan studios and released on United Artists in 1972 it was a vehicle for Florida born singer/songwriter Robert Lee, when a deal fell through with Albert Grossman. The band travelled to the UK and recruited Roy O'Temro of Cochise on drums and BJ Cole on pedal steel. That link to the UK 'big sky' country rock sound was more than physical, the album sounding in many ways at home with the likes of Man, The Brinsley's, and Help Yourself. Lee, who tragically later died in an accident, has a voice reminiscent of David Freiberg with Quicksilver. A varied set encompassing bar room boogie (A band of Outlaws) drifting Americana (Pale Horse and Ruby Valentina) and epic story telling (The Moment) it's a bit of a find.

Richard Allen
Price: £12
.00
+ Shipping: UK:£3.50, Europe:£6.25, USA:£8.50
PayPal
or
Credit\Debit Card
Select your location from the drop-down list
and Click the Buy Now Button
Please Note: Master tapes unavailable and disc mastered from vinyl original with agreement of surviving members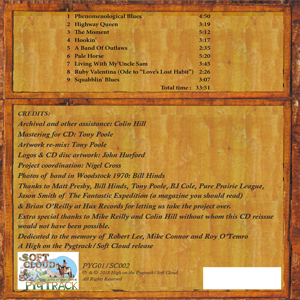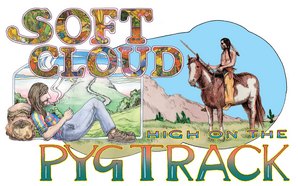 NME Review from 1972