FIVE GO MAD IN DORSET
Boy, do we have a humdinger for you here!

Dressed in what might possibly be John Hurford's most mynd-blowing artwork so far, we are proud to announce

Tea on the Lawn for Three - Rustic Hinge and the Provincial Swimmers
(High on the Pygtrack/Thylacine TOTL 43/44)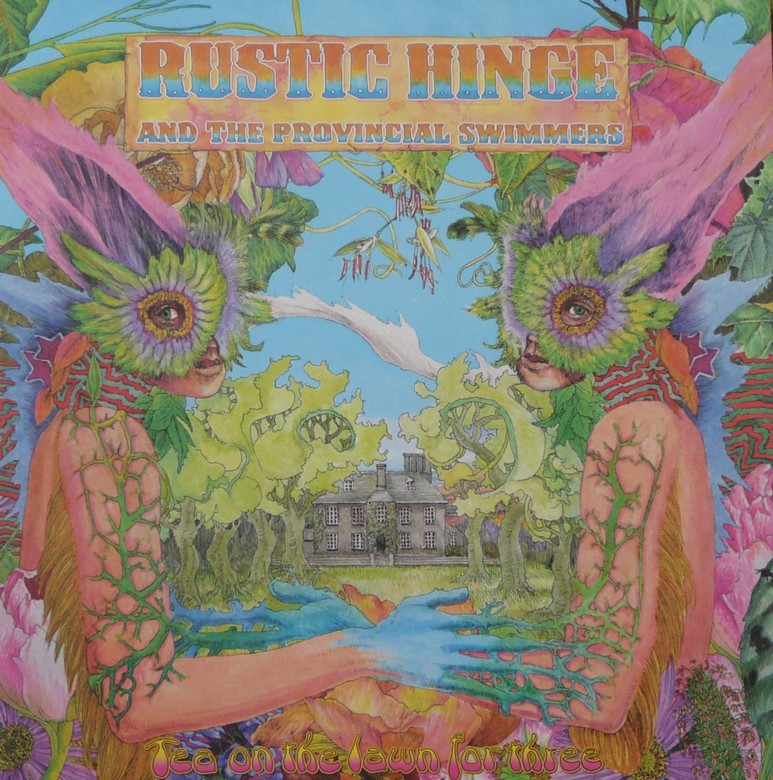 Colin Hill (
High on the Pygtrack
) and I have joined forces to finally release a version of Rustic Hinge & The Provincial Swimmers avantgarde epic, 'Tea on the Lawn for Three' that reflects how this musical work should have appeared back in the day.
As the 1960s started to fade away,
Arthur Brown
and various members of his band, the Crazy World found themselves living communally near Puddletown in Dorset. Rehearsals, however, began to go very wonky when drummer Drachen Theaker (following a brief flirtation with Love) and guitarist Andy Rickell started to deconstruct some of the tunes they were working on. It quickly became apparent that a parting of the ways was imminent, as the duo well nigh mad and starving,and high on 'Trout Mask Replica' and Bela Bartok string quartets, began work on their magnum opus, 'Tea on the Lawn' and called up ex White Rabbit, Pack and JP Sunshine singer, Rod Goodway to join the craziness.
Roadie, Ade Shaw, also came into this mad mix on bass and the band's musical identity began to take shape. Living in a strange old house at Ilsington Farm, all manner of weird sounds began to emerge. A BBC camera crew filming a doc on Thomas Hardy's Dorset captured the quartet at their absolute zenith performing on the front lawn. Years later a clip of this emerged on YouTube
https://www.youtube.com/watch?v=Hme_ez7fjkY
John Peel
was smitten enough to talk about a deal with his label
Dandelion
. Drachen and Andy (now renamed Android Funnel) wanted to press the album so it played from the centre (label) to the outer rim. You can imagine the execs in Dandelion's parent distribution company, already taxed by having to deal with signings like Stackwaddy and Principal Edward's Magic Theatre, throwing up their hands in despair and crying, how the fuck are we going to market this? Sadly, Dandelion folded and the Hinge split up soon after so it was never to be.
Rod and Ade headed for Bristol to start the very wonderful
Magic Muscle
and the Hinge recordings, occasionally tampered with over time by Theaker and Rickell lay buried until various snippets started to emerge in the late 80s. Nobody, however, has released a complete version of this master work until now. Drachen and Android in the meantime passed away and in summer 2021, Rod was tragically diagnosed with terminal cancer.
Accompanied by a short note one of his last acts was to bequeath all the remaining recordings to Colin and I and with the not inconsiderable help of
Tony Poole
have restored this amazing music to its rightful glory and issued it as it might have been presented in the early 70s. It brings together both versions of the epic title track, one with Rod's vocals (which were initially erased) and one without. The set also boasts a bunch of demos that Rod recorded prior to his short tenure with the band and also a side of Hinge oddzenends which include the brain scorching eleven-minute guitar workout, 'Lawnmower in D'. When Colin and I heard this for the first time last year, we were left speechless! Minds blown, jaws dropped in amazement! Colin's copious liner is worth the price of admission alone!
You can get more details from Colin who is handling sales:
pygtrack@btinternet.com
https://www.discogs.com/artist/11966525-Rustic-Hinge-amp-The-Provincial-Swimmers
Plus you have an opportunity to additionally buy a single 12" of the epic title track, 'Tea on the Lawn for 4 4' and yes folks, skillfully cut by Lewis and Graeme Durham, it does actually play from the run-out groove/label to the locked outer rim, just as those reprobates planned back in their heyday.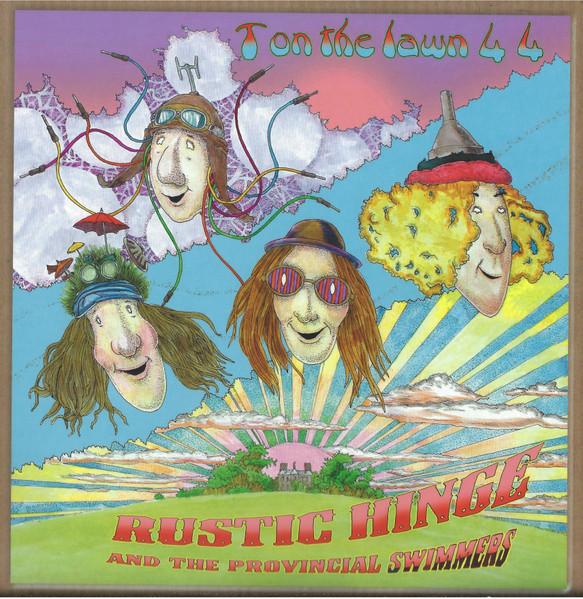 Edwin Pouncey
made it no 10 in his top 10 records of 2022 in
The Wire
'Also worth hunting down is the double LP from Crazy World Of Arthur Brown offshoot band Rustic Hinge & The Provincial Swimmers, a previously unreleased psychedelic oddity that fans of Captain Beefheart & His Magic Band will immediately tune into. It's eccentric UK 70s avant rock at its finest.'
A magnificent summation by
Nick West
at
Bucketfull of Brains
https://nickbob.com/2023/01/03/rustic-hinge-and-the-provincial-swimmers-tea-on-the-lawn-for-three-high-on-the-pygtrack-thylacine-records/