CLUCK01 12" Vinyl CHICKEN LEGS WEAVER - 'WISHBONE HANDS'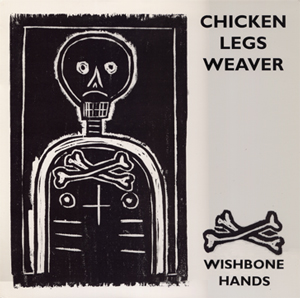 Released in association with Ecstatic Yod Records, live album by an early line-up of this great Sheffield based band, once described as bridging the gap between Stackwaddy, the Edgar Broughton Band and the Screaming Blue Messiahs.

Featuring main man Andy Weaver on guitars and vocals, Norton Lees on double bass and backing vocals and EJ 'Tank' Tankersby on drums, Chicken Legs Weaver seized the baton put down by Howlin' Wolf and infused it with their own inimitable brand of modern urban blues and lyrics that perfectly caught the desolate mood of the Millennium.

They wore out more than one rhythm section but savvy-ly surfed the Nu Blues Movement to great effect, even collaborating with the great Johnny Dowd.

Why they weren't signed to Fat Possum Records is still baffling but look no further than this live album for proof of just how ferociously potent they were.

The LP comes with sleeve painting by Billy Childish and liner notes by the great Mick Farren.
Side 1 Shadow Factory; Rolling Sea; Monkey Business; Desert Rose; In the Ground
Side 2 Paper Houses; Billboard Queen; Your Enemy Cannot Harm You; Lovelocked; Sheol Station; Killing Time

Limited run: 500 copies
Sold Out !