ENT003 12" Vinyl THE ARCHERS - 'THE GREEN RAY'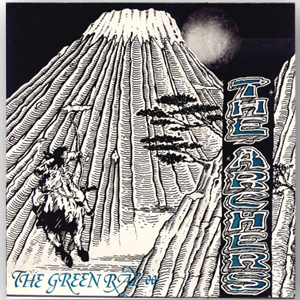 Shagrat Records will never hide its' love of early 70s band Help Yourself - and whilst attending the first MAN Convention in winter 1992, Nigel Cross encountered a splinter band from the Helps entitled the Archers featuring their former lead guitarist Richard Treece and former bassist Ken Whaley who were still creating intriguing, inspirational music some 20 years after that band's heyday.

The Archers were a quartet that also featured Simon Haspeck on second guitar and Simon Whaley on drums.

The band showed awesome promise, developing the improvisational skills Ken and Richard had developed during their days as part of Help Yourself. In the winter of 1993 Shagrat paid for them to cut some instrumental numbers under the supervision of Alec Hawkins, the man responsible for the sound on that great semi-official Elvis Costello & the Attractions LP, Live at the El Mocambo.

This EP shows that Whaley and Treece were and still remain the UK counterparts of those great San Francisco players, Jack Casady and Jorma Kaukonen or Phil Lesh and Jerry Garcia. Staggering stuff!

The band's take on Don Cherry's 'Brown Rice' is worth the price of admission alone.
Side 1 Brown Rice
Side 2 Really; Barking

Limited run: 500 copies

Sorry - Out of Print