ENT004 12" Vinyl SANDOZ - 'PAY ATTENTION'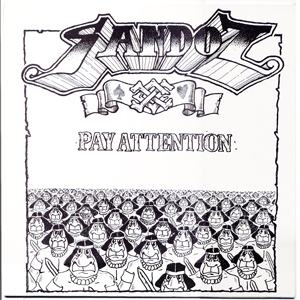 A genuine whiff of Ladbroke Grove in its heyday, Sandoz were a crazed, little known outfit featuring lead guitarist, John Goodsall en route from Babylon to Brand X, bass player Jim Mercer and drummer Gary Lonsdale . They played a handful of gigs in 1972 including a Greasy Truckers show, and left behind these three amazing tracks.

In his liner, Colin Hill notes, 'Sandoz is pure ephemera, a cosmic thunder flash rescued from the clutches of a sun-sized spider in a million-mile wide cobweb, a unique incandescent chemical reaction'.

Named after the Swiss laboratories where LSD was first synthesized by Dr Albert Hoffman, Sandoz were a classic power trio in the tradition of Cream and the Jimi Hendrix Experience, their music showing more than a passing debt to the good Captain and his Magic Band, early Amon Duul II and Miles Davis's Bitches Brew.

Jaw-dropping, heady stuff indeed especially the epic 13-minute 'Demi-God'

Artwork by Ed Barker.


Side 1 Apple Core Machine; I Ain't Strong
Side 2 Demi-God

Limited run 350 copies

Sorry - Now Sold Out !