ENT005 10" Vinyl DYNAMO HUM - 'FOUR CUTE CREATURES'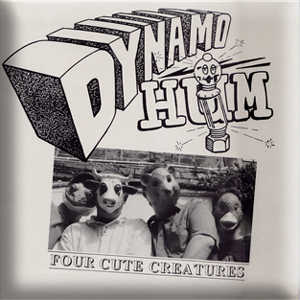 A further branch of that rock family tree with roots going back to the Small Brothers, the Victor Laszlo 5, Motor Boys Motor and the Screaming Blue Messiahs, Dynamo Hum was the only real alternative to Brit Pop or depending on your perspective, about six years too early for the Nu Blues boom of the early noughties.

Formed around vocalist/guitarist Chris Thompson, drummer Kenny Harris, bass player Ricky McGuire and harmonica/jaws harp player and some time singer Tony Moon, Dynamo Hum turned the blues on its head to produce a weird hybrid quite unlike anything else you might have heard.

When Andrew Lauder's This Way Up label passed on them, Shagrat stepped into the breach and released this 4-track EP of some of their best numbers - including the debauched Stones swagger of 'Drunken Angel', the weird trance dance blues of 'Shake Marilyn Monroe' and their epic live, hypnotic favourite 'Head, Hive and the Honey'

The band split up in 1995 but Chris Thompson and Ricky McGuire have kept the ball rolling since as the Killer Bs, releasing Love Is A Cadillac, Death Is A Ford on Track Records in 2010. The current line up also includes Dave Morgan on drums and the inimitable Andy Weaver (see also Wishbone Hands) on lead vocals and guitar.

For anybody with a love of Eel Pie Island rhythm'n'blues or early Captain Beefheart and of course for followers of both Motor Boys Motor and the Messiahs you can't afford to be without this release.
Side 1 Shake Marilyn Monroe; Drunken Angel
Side 2 Head, Hive & The Honey; Ball That Jack

Limited run 500 copies
Out of Print