ENT006 12" Vinyl THE GREEN RAY - 'SIGHS, WHALES AND TREES'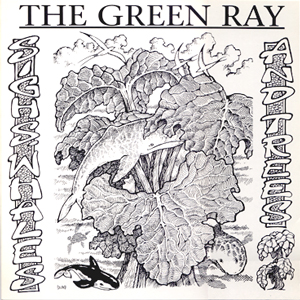 After Si Haspeck quit the group, Richard, Ken and Simon W recruited Simon Burgin who had been playing in Slithy Tove with Simon W. As various other bands were masquerading under the epithet Archers, they renamed themselves The Green Ray, after their debut 12", which in turn had been named after the eponymous Eric Rohmer film!

Simon B was a boon - not only could he sing but he could also play great guitar and he could write. Upon hearing a number live nicknamed 'Stormy Petrel' (which evoked the lyricism and twin guitar prowess of vintage Fleetwood Mac), Shagrat Records was quick to get them into the studio.

The instrumental in question was renamed 'Float' - a beautiful, shimmering instrumental featuring multi-tracked slide guitars – and is the highlight of this 12" and in another time and universe would undoubtedly have been a hit.

The new line up also laid down two further instrumental cuts, 'Flying High' and 'Night Train To..' which reveal what a tight and musical unit the Ray had become and of course feature lashings of lead guitar/lap steel dexterity and magic from the great god, Treece!
Side 1 Float
Side 2 Flying High; Night Train To....

Limited run: 500 copies GREEN VINYL!
Out of Print