ENT007 10" Vinyl BRIDGET ST JOHN - 'THE FIRST CUT'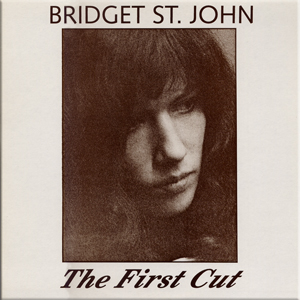 A rare vinyl release by the English rose of folk rock and some-time first lady of Dandelion Records, Bridget St John

The A-side is Bridget's tribute to mentor and friend John Peel and partner, the Pig, Peel's nickname for his wife Sheila.

Recorded at Ron Geesin's studio on 24 November 1995, the song is based on 'This Old Man', a tune from the Inn of Sixth Happiness.

The song sounds even more poignant now after John sadly passed away in 2004.

The B-side comprises Bridget's first ever demos recorded at Al Stewart's in 1968 and executively produced by Pete Roche of the Occasional Word Ensemble.

All four numbers would eventually be re-recorded for her debut solo album produced by Peely for Dandelion Records the following year.

'Lizard Long Tongue Boy' also features another Occasional Word member Rick Saunders on second guitar.

Sleeve notes by Bridget.
Side 1 Pig'N'Peel
Side 2 Ask Me No Questions; Lizard Long Tongue Boy; Hello Again (Of Course); To B. Without A Hitch

Limited run 500 copies
Out of Print