ENT009 10" Vinyl SCREW - 'BANKS OF THE RIVER' b/w 'DEVIL'S HOUR'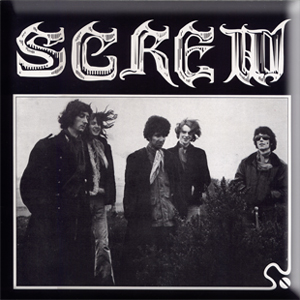 One of the great lost British bands of the late 60s, Screw was formed in South London during the Summer of Love and managed by Sam Cutler, later involved with the Stones and the Grateful Dead (see his recent autobiography You Can't Always Get What You Want).

Featuring Chris Turner on harmonica, Alister Kinnear on guitar, Nick Brotherwood on drums, Stan Scrivener on bass and the amazing vocals of Pete Hossell, Screw were blues fans who embraced the spirit of the psychedelic era with a vengeance.

These are the only known studio recordings known to exist, recorded in spring 1969 by the original line up and produced by the Floyd's Nick Mason – a must for anyone who loves early Beefheart, early Free, later Misunderstood or even Arthur Brown.

With fabulous artwork by Savage Pencil, the 10" comes with an insert featuring photos of the band taken at their legendary appearance at the Rolling Stones free show in Hyde Park in July 1969 and a history of the group by Nigel Cross plus a bonus CD featuring Chris Turner and Pete Hossell battling it out on dual harmonicas on a thing called 'Psychedelic Harps'.
Side 1 Banks of the River
Side 2 Devil's Hour
£8.00
+ Shipping: UK:£8.25, Europe:£11.75, USA:£19.50
PayPal
or
Credit\Debit Card
Select your location from the drop-down list
and Click the Buy Now Button