ENT010 12" Vinyl FORMERLY FAT HARRY - 'MARIACHI RIFF LIVE AND FREE MUSIC'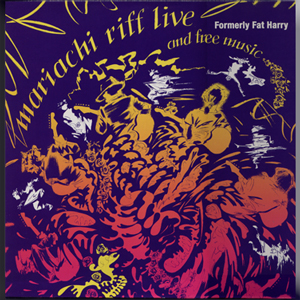 Formed in 1969 in Croydon by three ex-Berkeley musicians, Gary Peterson, Phil Greenberg and Bruce Barthol who had not long left Country Joe & the Fish, Formerly Fat Harry were signed to the legendary Peter Jenner and Andrew King's Blackhill Enterprises and became a mainstay of the festivals and underground club circuit.

The band mined a rich blues, folk and country vein which nowadays might have been called Americana, and heavily infused it with a psychedelic edge – after all these guys had been part of the San Francisco acid rock explosion!

They left behind a very musical if rather low-key album for Harvest Records before splitting up in early 72. Hux Records released a more representative CD in 2008 Goodbye For Good, featuring material culled from the band's own archives. This LP reveals their more experimental leanings.

Side 1 contains the highlight of their live performances, a 24-minute version of their tour-de-force 'the Mariachi Riff' recorded in December 1970 at Friars, Aylesbury, which explodes into a full San Francisco-style ballroom jam that will have fans of Happy Trails and Live Dead jumping for joy.

Side 2 contains two cuts of 'free music'. As the band note in the liner, 'Fat Harry never had a preconceived sound. We sounded like we did because that's just how we played and gelled musically. We all liked to improvise, having come from musical traditions that emphasized improvisation.

Most people who listened to Fat Harry during our days in England probably never heard us play free music, because outside of two very early extended gigs in Switzerland, we seldom performed it but played it primarily for ourselves....

Free music is a form of ensemble musical improvisation in which musicians purposely try to avoid settling into key or melody or harmonic or rhythmic structures... if you put a free music piece on as background, you probably aren't going to like it. But if you're in the right mood and you're willing to give it a chance, and you sit down and really listen to it – any free music, not just ours – it can be emotionally evocative and beautiful in the same way all music is'.

Housed in a mynd-blowing sleeve designed by original British 60s poster artist, Mike McInnerney, the guy who also created the sleeve for the Who's Tommy, the release comes complete with insert featuring band photos and other memorabilia and an evocative, in-depth essay on the band by Colin Hill.
Side 1 Mariachi Riff
Side 2 Homage to Bill; Two
£11.00
+ Shipping: UK:£8.75, Europe:£12.75, USA:£20
PayPal
or
Credit\Debit Card
Select your location from the drop-down list
and Click the Buy Now Button