ENT012 10" Vinyl THE DARROW MOSLEY BAND - 'DESERT RAIN'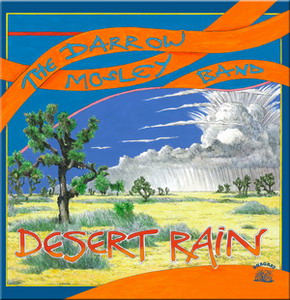 The Darrow Mosley Band was a vehicle for the prodigious talents of Bob Mosley (lead vocals, bass guitar) and Chris Darrow (lead vocals, guitar).

Mosley had been an integral member of Moby Grape, one of the greatest California bands of the late 60s. A quintet comprising five talented musicians who not only could play like demons, but were also equally skilled as singers and songwriters - joining Bob, were guitarists Peter Lewis and Skip Spence, Jerry Miller on lead guitar and Don Stevenson on drums. After a superb but sadly over-hyped debut LP that captured better than most the brief psychedelic glory of the Haight Ashbury era (and is now rightly regarded as a classic), they had spectacularly blown apart during the making of their sophomore set WOW, which saw the exit of the visionary Spence. Regrouping in its aftermath as a quartet, they had released the undervalued 69 which saw them mining a more country vein, but following a tour of Europe Mosley quit and in a surprise move briefly joined the US marines!

In 1971 the original members got back together to record the excellent 20 Granite Creek which opened in fine style with Bob's classic, 'Gypsy Wedding' - sadly the reunion was brief with all the old wounds and rivalries soon stymmying any chance of recapturing any former glories and Mose quit again releasing a fine debut solo LP on Reprise.

Darrow had been a founding member of the wildly exotic Kaleidoscope, the hugely talented Claremont-based quintet that subsequently has been recognised as one of the first rock groups to play 'world music' - an outfit that blended many different styles from pyschedelic rock, blues and folk with country, Cajun, Turkish and Cab Calloway flavours. Chris played guitar, fiddle, bass and mandolin in a combo of multi-instrumentalists, that also featured the likes of Soloman Feldthouse and David Lindley.

Chris quit Kaleidoscope after their second LP, A Beacon From Mars and joined the Nitty Gritty Dirt Band just in time to appear in the musical Western Paint Your Wagon with Lee Marvin & Clint Eastwood. He then formed the Corvettes who backed up Linda Ronstadt.
As well as playing in these bands and releasing a series of fine solo albums, Chris had also made a name for himself as a sideman for the likes of Leonard Cohen, James Taylor and John Fahey.

In 1973 both Chris and Bob decided they wanted to be in a band again and their mutual manager Michael O'Connor suggested they form a group together - drawing on the energy and style of vintage Stones and Faces and adding more than a dash of the prevalent SoCal country rock scene to the mix, Bob and Chris were joined by lead guitarist Frank Reckard (subsequently in Emmylou Harris's Band for 14 years), keyboard player Loren Newkirk and drummer Johnny Craviotto (Ry Cooder, Arlo Guthrie, Buffy St Marie) - they cut 3 songs to try and get Warner Bros interested.
Sadly Warners passed on the demos and they have lain unheard till now - the A-side, 'Albuquerque Rainbow' is a crunchy rocker featuring Darrow on lead vocals and originally debuted on his eponymous second album done for UA. The flipside has Bob Mosley as lead vocalist - a treat for all those who already know what a masterful singer this Norse god can be - first up is a soulful, smouldering version of the Temptations' 'I wish it would rain' that also boasts some dexterous picking from Reckard. The EP closes with a new version of Bob's exquisite 'Beautiful Day' originally done for the Grape's 69 record.

The band split soon after but these recordings are an integral link in the chain that binds Moby Grape with Fine Wine and the Ducks (Neil Young's legendary summer of 77 Santa Cruz bar band) - Darrow would go on to record a series of excellent solo albums and participate in a couple of Kaleidoscope reunions. Bob and John Craviotta would hook up with Jerry Miller for Fine Wine and then form the rhythm section of the aforementioned Ducks.

Packaged in a beautifully mynd-blowing sleeve by legendary British pyschedelic designer John Hurford (IT, OZ, Dandelion Records etc) complete with insert featuring sleeve notes by Chris Darrow, this EP is an absolute must for fans of Kaleidoscope, Moby Grape and West Coast rock everywhere.
Side 1 Albuquerque Rainbow
Side 2 I Wish it Would Rain; Beautiful Day
Limited run: 499 copies
Destined to be a coveted collectors' item, this extremely Limited Edition 10" vinyl EP is now available here for £20
+ Shipping: UK:£9.25, Europe:£12.75, USA:£20.50
PayPal
or
Credit\Debit Card
Select your location from the drop-down list
and Click the Buy Now Button