LAWRENCE HAMMOND - 'PRESUMED LOST' DOUBLE VINYL LP (ENT 015 12")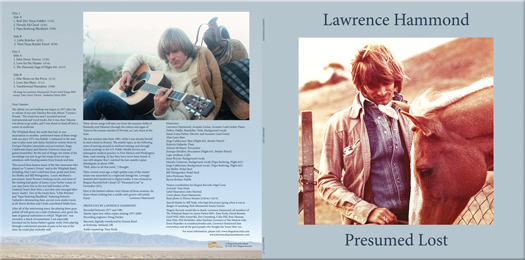 Coming 8 May 2013, a double album of Lawrence Hammond's 'Presumed Lost'.
Folks, we've finally bitten the bullet and done a vinyl run of the
'Presumed Lost'
set.
This is a very limited release of just 300 copies coming in a beautiful gatefold sleeve.
Pressed on
180gsm vinyl
, the album features lyrics to all 11 songs on the album reprinted on the inner gatefold sleeve plus a new liner note by Lawrence himself and a recently unearthed, never-before published beautiful colour photo of the singer from the mid-70s.
However if you want to know the full story behind
'Presumed Lost'
, you'll still have to
buy the CD version
as we won't be re-printing the CD booklet as part of this release.
Please note also that there are NO additional tracks.
This is a must-have item ! Once they've gone, they're gone as we won't be doing a re-press.
Shindig ! Magazine Review
Following 2011's magnificent packaging of
Mad River
's
Jersey Sloo
, Nigel Cross' Shagrat Records pull off another coup in this most revered of 60s' bands' tale by restoring singer Lawrence Hammond's follow up to
Coyote's Dream
, his 1976 release on John Fahey's Tacoma label.
Finished in 1981 but never released, it again shows Hammond as a uniquely haunting voice, ringing loud and clear on a sublime selection of cowboy ballads ('
Pale Moon on the Pecos
'), humourous outings ('
The Heavenly Saga of Flight 641
') and his '
John Deere Tractor
' (later covered by
The Judds
), while '
Tumbleweed Plantation
' recalls his old band's '
Paradise Bar And Grill
'
These, plus heart-circling '
Papa Redwing Blackbird
' and epic '
West Texas Border Patrol
' are boosted by stellar musicians, including fiddler
Byron Berline
and pedal steel
maestro
Bill Weingarden
.
Stetsons off to Shagrat for allowing this previously lost space cowboy masterpiece to finally ride out of the traps as a classic of its era.
Kris Needs
Side 1
Red-Dirt Texas Fiddler (5'16)
Nevada McCloud (4'44)
Papa Redwing Blackbird (5'09)

Side 2
Little Britches (6'22)
West Texas Border Patrol (8'59)

Side 3
John Deere Tractor (3'20)
Love for the Hunter (4'16)
The Heavenly Saga of Flight 641 (6'13)

Side 4
Pale Moon on the Pecos (3'15)
Lone Star Blues (3'11)
Tumbleweed Plantation (5'00)

Total Time: 55m 43s
£22
+ Shipping: UK:£8.15, Europe:£12.65, USA:£23.50
PayPal
or
Credit\Debit Card
Select your location from the drop-down list
and Click the Buy Now Button