It was 50 years ago today!
Well give or take a few days!
October 2015 marks the 50th anniversary of the formation of one of our favourite groups, the
Youngbloods
when
Jesse Colin Young
,
Jerry Corbitt
,
Banana
and
Joe Bauer
got together to form one of the great bands of the folk rock and psychedelic eras. Their story has been chronicled many times and though the band split up in September 1973 (with a short-lived reunion in the 80s), their spirit lives on.
Sadly Jerry and Joe are no longer with us, but last year Banana undertook a fascinating project,
Get Together
in which he re-visited some of the many songs that the Youngbloods had in their repertoire. With the help of such legends as
Ry Cooder, Dave Grisman, Peter Stampfel
and last but certainly not least, his old sparring partner,
Jesse Colin Young
,
Banana
respectfully recalls and re-imagines some of the classics from that long gone era to produce a wonderfully intimate set that should have fans of the original band all a-glow and should win over anybody who enjoys a slice of old school ,rootsy folk, blues and Americana with the occasional flash of psychedelic electric instrumentation.
Banana is releasing the set in the US as a digi-pak CD but here in Europe Shagrat in cahoots with
Ross Hannan
's
Hookah
label, are releasing it as a double 10" set with a tri-partite gatefold sleeve. And the good news is that we are offering not only the full length version of
'Supersonic Transport'
in all its six-minute plus glory (edited for the CD) but also an exclusive additional cut of Banana performing
Fred Neil
's
'Other Side of This Life'
.
Complete with artwork that captures the atmosphere of the San Francisco era including a 12 page book, plus label artwork by the inimitable
John Hurford
(his hookah-smoking rat is a total gas), the set ships 1st October in a run of 500 copies (100 of which are being shipped to the USA exclusively for Banana's use)
Plus Banana will be playing a late afternoon show here in London on Sunday 1st November, more details to follow: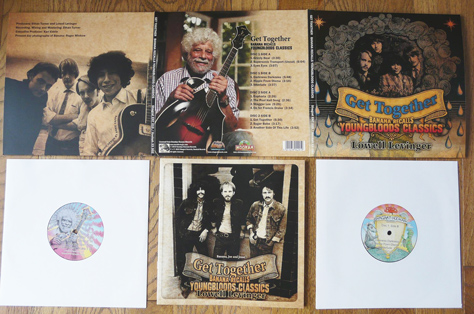 Prices: (apologies again for the steep cost of postage but Royal Mail just keeps on going up and up).
If you want to buy more than one copy or want to buy this item together with other Shagrat releases, do
email us
first so we can calculate the best postage rate for you.
Great review by Byron Coley in Wire magazine !
Size Matters
Byron Coley
on organic synth poop,
European ice-crushing,
and psyched out, kitchen sink
oddballery
Another great piece from Nigel Cross's faultless label. Lowell 'Banana' Levinger was a founding member of The Youngbloods and on this set he does a fat passel of their classics – "Darkness Darkness", "Grizzly Bear", "Hippie From Olema", and so on. Plus a smattering of other tunes, including great covers of Michael Hurley's "Eyes Eyes" and "Pool Hall Song" (the former illustrated by Hurley in the booklet's centrefold). Musical contributors include Ry Cooder, Jesse Colin Young, Peter Stampfel and Dan Hicks. Typically nice Shagrat package as well. File next to Banana & the Bunch.
{Back to Top}