Heroes & Friends

Urban Gorilla


During the autumn, winter and spring months of 1969 and 70, as a burgeoning 'freak' and underground music fan, I was going to a lot of gigs in the Blackpool, Preston, Lancaster, Manchester area.

One band I saw a lot on my travels around then was Urban Gorilla - also variously known as The Stark Electric Blues Band, very briefly Lanchester County (an unofficial name soon replaced with Urbane Gorilla - note the spelling - it was meant to be part of a joke, but it got a lot of people confused) and finally Urban Gorilla.
I saw them regularly in the Great Hall at Lancaster University and further afield including an amazing gig at the Pleasure Beach Casino on Wednesday 1st April 1970 where they supported the fast rising Black Sabbath and local heroes, Grisby Dyke - that night was also my first encounter with Stackwaddy but that's another story!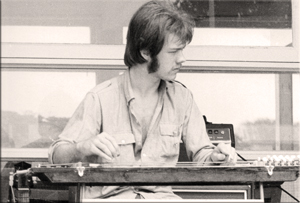 The band went through various singers and guitarists but was built around steel guitarist Henry Ayrton,
sax player Julian Holt and bass player Jeff Dade.

In my young mind, the line up very much reminded me of Juicy Lucy and you could always tell they loved the Captain too whilst their knowledge of the great blues players was encyclopedic. Ah the great British Blues Boom! Like a lot of bands from back then you waited for the records to come. Sadly they didn't and the band finally broke up in 1971.

When I started Shagrat Urban Gorilla was always a band I wanted to put records out by. As yet they haven't managed to unearth much releasable stuff - but ever the optimist I live in hope. Meantime I have been in touch with many of their former members and Henry has very kindly started to write the band's history, the first part of which is now available here for your delectation: